Good Ways Inc. provides consulting services in three areas:
Online Fundraising
Donor Engagement
Training
Fundraising
Online fundraising is growing faster than all types of fundraising. In 2017, online fundraising in the last few days of t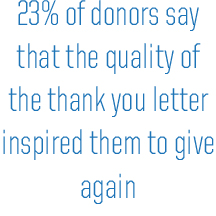 he year increased by a whopping 38% over the year before. This is how your donors want to give, but too many non-profits are making it too difficult and too many non-profits are feeling left behind by technology.
We can help you come up with an online fundraising plan that:
Increases donors to your organization
Makes donors feel thanked and appreciated
Grows year over year
Doesn't feel relentless, annoying, or salesy
Doesn't involve major investments of time, software, or knowledge of technology (seriously)
…but really, it's about figuring out the unique combination of skills, talent, and opportunities on your staff and board that make the most efficient fundraising plan for you.
Digital Media
There is one sure-fire way to raise more money from your campaigns. It doesn't cost a lot and technically speaking it's easy.
Organizations that do it raise twice, even three times as much as organizations that don't.
It's simply keeping in touch with your donors all year long. (Notice we did not say "sending a newsletter.")
The problem is it's hard to find the time to get monthly, let alone bi-monthly emails and social media posts out to your donors with consistency. Especially if you're a Development Director that is also the Director of Communications (and probably a hundred other job titles too).
We feel so passionately about this that we've developed a special program designed to reduce the time you spend on communication, emails, and those dreaded newsletters. All you have to do is commit to a monthly call where you talk through the stories and impact of your organization. You provide the content and we'll turn your stories and pictures into:
An article for your website
A donor email to send to supporters (and those that you want to be supporters)
Social media posts
And all you have to do is commit to a monthly brainstorming call.
Training
Whether you want to train your team, your Board, or yourself in fundraising we have a few training opportunities:
Next training:
UCLA Extension: Digital Fundraising
Starting on May 7, 2018, this 6-week class is offered through UCLA extension and is taught online (yay, stay in your sweatpants!). In this class we cover the tools and strategies you'll need to start or improve online fundraising at your organization. Sign up to be notified about this class.
Available trainings:
"I hate fundraising" – Sometimes your Board just needs to talk it out, right? In this short training we cover myths and fact about fundraising and talk about the very important role Board members play in the financial health of the organization. Using best practices from other Boards (who also hate fundraising), we end with personalized plans for each Board Member.
Giving Tuesday – A short training for small non-profits on how to approach Giving Tuesday and other giving days. Includes best practices on writing fundraising emails. A great training for associations.
Online fundraising overview – If one more person suggests to you that "we need an ice bucket challenge" don't punch them in the face. Call us and we can give your organization or Board a quick class in online giving trends, best practices, and why throwing ice on your head may of may not work for you.