In addition to fundraising plans, I can also help with organization-wide plans. But my focus is always how to help you run efficiently with an eye for how money flows into your organization. For organization-wide planning and analysis, I typically provide: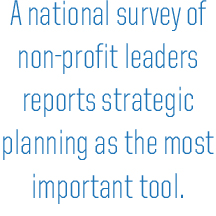 Business planning
Landscape analysis
SWOT analysis
Positioning statements
Theory of change analysis and communication
Measurement tools
Talent assessment and development
…at the end of the day it comes down to what you want to achieve and the best way to get there. The only good strategic plan is one you can execute.
Survey source: The Chronicle of Philanthropy's top management tools.