Online fundraising is growing faster than all types of fundraising. In 2017, online fundraising in the last few days of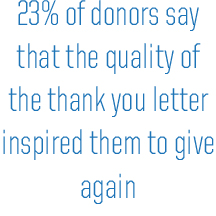 the year increased by a whopping 38% over the year before. This is how your donors want to give, but too many non-profits are making it too difficult and too many non-profits are feeling left behind by technology.
We can help you come up with an online fundraising plan that:
Increases donors to your organization
Makes donors feel thanked and appreciated
Grows year over year
Doesn't feel relentless, annoying, or salesy
Doesn't involve major investments of time, software, or knowledge of technology (seriously)
Statistics from Network for Good and Cygnus Applied Research.