The best and scariest thing about digital communication is that it is moving fast. It look the telephone 35 years to be adopted by 25% of America. It took the internet 7 years. (Source: Pew Research Center) The only good way to master this fast communication is to stick with your customer. To that end I typically provide digital media services like: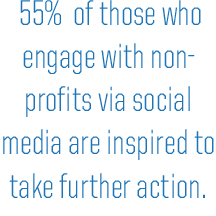 Communications strategy
Content creation (like blogging or newsletters)
Social Media goal setting and management
Digital fundraising plans
…it's all about finding those good ways to use technology to reach your communication and fundraising goals.
Stats source: Nonprofit Tech for Good